Level II: Foundation Series
Foundations of Tea: Level Two
Building on the essential groundwork presented in Level One, Foundations of Tea: Level Two will examine CTC tea production and manufacture, as well as blending, flavoring and scenting, and introduction to sensory evaluation of teas. Also included is an introduction to the principles of grading and naming teas by country of origin. This seminar will allow attendees to ex-amine and taste 5-6 pairs of teas as they are guided through the basics of a comparison cupping of the 5 tea types.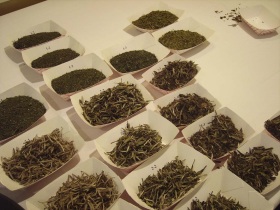 Schedule
9:00am-9:15am: Introductions and Orientation

9:15am-10:45am:
Section 1 - Introduction to Stages of Production and Manufacture
Section 2 - Grading and Naming

10:45am-11:15am: Break

11:15am-12:30pm:
Section 3 - Blending
Section 4 - Flavoring and Scenting
Section 5 - Intro to Sensory
Section 6 - Tasting White Teas

12:30pm-1:30pm: Lunch

1:30pm-2:30pm:
Section 7 - Tasting Green Teas
Section 8 - Tasting Oolong Teas (30 mins)

2:30pm-3:00pm: Break

3:00pm-4:15pm:
Section 9 - Tasting Indian Black Teas
Section 10 - Tasting Ceylon Loose Leaf and CTC Teas
Section 11 - Tasting Pu'erh Teas
4:15pm-4:30pm: Review

4:30pm-5:00pm: Test