The Specialty Tea Institute
LEARNING EXPO and CERTIFICATION CLASSES
August 6th-9th, 2014
Join Us in Dallas!
The Specialty Tea Institute invites you to their first-ever Learning Expo, this August in Dallas. STI will feature a special-speaker series for all tea lovers and culinary and wine professionals. And because life should not be all work and no play - STI announces that world-renowned farm-to-table chef Sharon Hage along with CTS and Culinary Teas author Cynthia Gold and Jason Ferraro of The Establishment will work together to develop a special tea, small plate and cocktail happy hour menu for our members!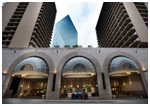 Located in the heart of downtown Dallas, the beautiful Fairmont Hotel is offering a special rate for STI guests. Stay within walking distance of world-class restaurants, the Arts District, Klyde Warren Park.
---
Six Distinguished Guest Speakers

​Tea and Wellness:
Myths & Truths-
Nada Milosavljevic, MD, JD.
A Harvard Medical School professor, Certified Tea Specialist and founder of the Integrative Health Center at Mass General Hospital, few people in the world can speak with such authority on this ever-growing subject. Come hear the newest findings from this internationally recognized expert.
---
The Crossroads of Art and Tea-
Nancy Choen Israel
Tea lover and expert art historian, Nancy Cohen Israel is also the founder of Art a la Carte. She will lead a 'tea tour' of the Crow Crow Collection of Asian Art and the Dallas Museum of Art. Participants will also be treated to a traditional Afghan Tea Ceremony and luncheon.
---
Tea Chi and Meditation -
Lynayn Meike, BS, M.Ac., HHC, AADP
Lynayn A. Mielke has a masters degree in acupuncture, is a Certified Tea Specialist and has certifications in nutrition, meditation and mindfulness. A Transformational Mentor and Lifestyle Expert, she is the creator of The Well-Infused Life and the owner of the East West Tea Emporium. Experience her insights into the connections between tea, meditation and you.
---

It's Time for Tea in the Classroom -
Elizabeth Fawcett, PhD and Kyle Stewart, CTS
Certified Tea Specialist Kyle Stewart is co-owner of The Cultured Cup in Dallas, TX, and a member of STI's Advisory Board. Kyle combined his lifetime loves of teaching and tea to join with sociologist Dr. Elizabeth Fawcett and Dallas area teachers to develop and evaluate tea learning modules for the classroom.
---

It's Time for Tea in the Classroom -
Elizabeth Fawcett, PhD and Kyle Stewart, CTS
Dr. Elizabeth Fawcett teaches sociology at Texas Women's University.
Her fascination with the ritual of tea and background in social research made her theperfect partner for Kyle in their collaborative effort. Several of the teachers and students who participated in the study and curriculum development will also participate in this unique interactive presentation.
---

Mastering the Art of Tea Service in the Hospitality Industry -
Isabel Bogadtke, CTS
The Mobil Travel Guide has given its Best Service in the World Award only once - to Isabel Bogadtke. She's managed at both The Inn at Dos Brisas and Hotel Fauchereand is currently a consultant at Element Winery as well as the owner and general manager at F.L.X. Weinery in upstate New York.
---
6 Speaker VIP Pass - $279 - Register Now
Level 1, 2, and Level 3 Oolong - Register Now